New Delhi: Maharashtra reported two new cases of the Omicron variant of COVID-19 on Monday, bringing the total number of people infected in the state to 20, the state bulletin said.
Citing the report released by the National Institute of Virology, the state government informed that a new case of Omicron had been detected in Latur and Pune each.
A 39-year-old woman has tested positive for Omicron in Latur while a 33-year-old man has been found infected in Pune. Both are asymptomatic cases and are currently in isolation facilities, the Maharashtra public health department has informed.
"3 close contacts of these two patients were found. All are found negative. Both are fully vaccinated, "the state bulletin said.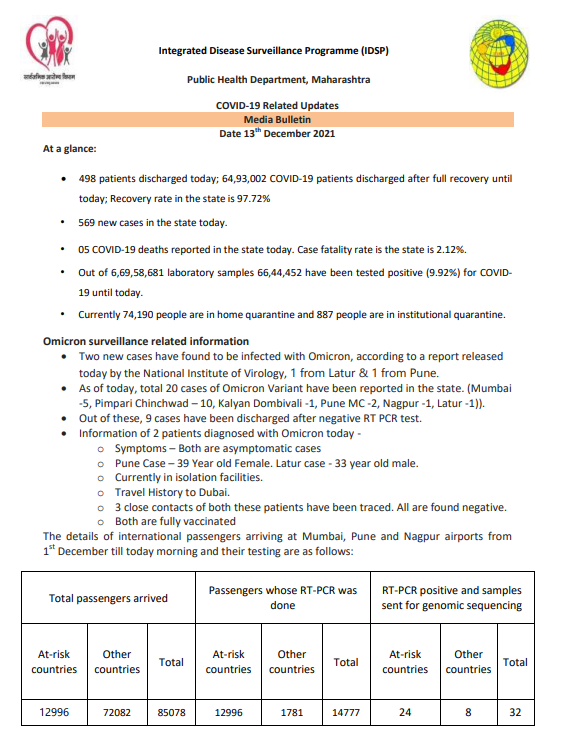 Earlier today, Rajasthan reported four new cases of the COVID mutant and the total number of infected patients in the state has reached 13, according to state health officials.
Maharashtra followed by Rajasthan are the two states with the highest number of patients infected with Omicron.
With two new cases of Omicron, Maharashtra currently has 20 patients infected with the new variant while Rajasthan has detected 13 people positive for Omicron.
Of them, 9 later tested negative and were sent home, the IANS news agency reported.
In addition, with the new infections, the total number of patients infected with Omicron across the country has reached 44.
Regarding the new cases of Omicron in Rajasthan, Jaipur CMHO Narottam Sharma had informed: "Besides four family members who tested positive for Omicron after their return from South Africa, their family members in the colony Adarsh ​​Nagar Janata had also come into contact with them. While five people were found previously infected with Omicron, the report of the remaining four people was also found to be positive, "IANS reported.
On top of that, reports of genome sequencing of people who have returned from overseas in the past few days have yet to reach Jaipur. People whose reports are expected include travelers who returned from Ukraine, four family members who returned from Germany and two people who returned from the United States. Samples of these people were sent for testing.
Besides Rajasthan and Maharashtra, three Omicron patients have been detected respectively in Gujarat and Karnataka while Delhi has two cases. Chandigarh, Kerala, and Andhra Pradesh reported their first cases of Omicron on Sunday.
Last week, Lav Agarwal, co-secretary of the Union's Ministry of Health, informed that all cases of Omicron detected showed "mild symptoms". "Less than 0.04% of the total variants were detected," he said. NITI Aayog (health) member Dr. VK Paul said people are operating at a "risky and unacceptable" level, stressing that masks and vaccines are important for protection against coronavirus disease.
<—-ALSO READ—->